Concrete admixtures, also known as concrete additives, are construction chemicals that are added to the concrete before or during mixing. So it can improve the performance of concrete. As the most professional manufacturer and supplier of concrete chemical admixtures in China, Kingsun always offers high-quality concrete chemicals and excellent services for our customers all over the world.  Please feel free to contact us and get a quote online.

Different Types of Concrete Admixtures For Sale
Kingsun concrete admixtures for sale mainly include Sodium Gluconate 98% min, Sodium Naphthalene Sulfonate(SNF/PNS/FND), Polycarboxylate Superplasticizer(PCE), Sodium Lignosulfonate. And these products have passed ISO/SGS certifications. Welcome to inquiry now!
(1). Sodium Gluconate As Concrete Retarder
As a concrete retarder, Kingsun sodium gluconate 98% min can delay the Initial and final setting time of concrete. In general, it can extend the concrete setting time by a few days without effect the strength of the concrete. Of course, it can also act as a water reducing admixture to improve the workability and the strength of concrete.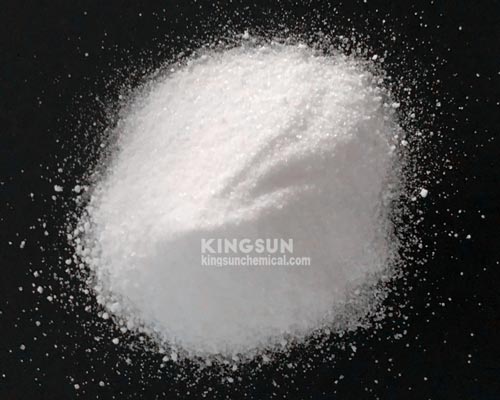 Other Name: Sodium Salt of Gluconic Acid
Appearance: White crystalline grain or powder
Purity %: 98% min
Tech Grade: Industrial Grade
PH Value: 6.2~7.8
CAS No.: 527-07-1
Molecular Formula: C6H11NaO7
(2). Sodium Lignosulfonate As Concrete Water Reducer
Sodium lignosulfonate has adsorption and dispersion effects on cement and can improve various physical properties of concrete. Adding sodium lignosulphonate to concrete can reduce water consumption by more than 13%, improve the workability of concrete, and can greatly reduce the heat of hydration in the early stage of cement hydration. In addition, it can also be compounded with other admixtures into early strength agents, retarders, antifreeze, pumping agent, etc.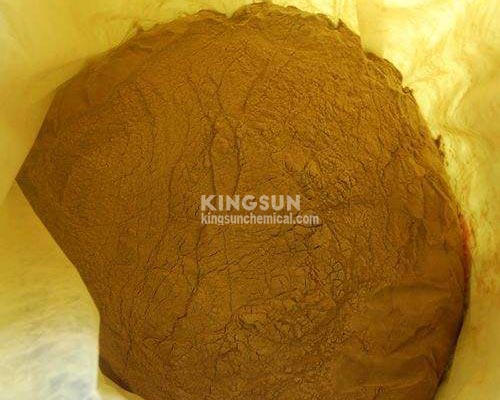 Other Name: Lignosulfonic Acid Sodium Salt
Appearance: Yellow Brown Powder
Lignosulphonate: 60% min
Dry Matter: 92% min
PH Value: 7.5-10.5
CAS No.: 8061-51-6
HS Code: 38040000
(3). Sodium Naphthalene Sulfonate As Concrete Superplasticizer
Sodium naphthalene sulfonate has characteristics like a high water-reducing rate and little effect on the concrete setting time. The water-reducing rate of naphthalene superplasticizer can reach 15%-25%. Besides, it can also improve the early strength and workability of concrete.
Other Name: Naphthalene Superplasticizer
Abbreviation: SNF/PNS/FND
Product Type: SNF-A/B/C
Appearance: Light brown powder
PH Value: 7-9
CAS No.: 36290-04-7
HS Code: 38244010.00
(4). Polycarboxylate Superplasticizer As Concrete Superplasticizer
Polycarboxylate superplasticizer (PCE) has a high water reduction rate with a low dosage. Its water reduction rate can be as high as 45%. It is often used to prepare high-strength and high-performance concrete. The concrete prepared with polycarboxylate ether has good performance. Even under the condition of a high slump, there will be no obvious segregation and bleeding phenomenon in concrete.
Product Name: Polycarboxylate Superplasticizer (PCE)
Type: PCE Liquid, PCE Powder
Solid Content, %: 50±1.0, 98±1.0
Chloride Content,% ≤ 0.1
Solubility: Completely Soluble
Water Reducing Rate: ≥25%
PH Value: 6.5-8.5, 9.0±1.0
Why We Use Admixtures in Concrete?
Generally speaking, Kingsun concrete admixtures are used to give special properties to fresh or hardened concrete. Concrete admixtures may enhance the durability, workability, or strength characteristics of concrete. Besides, chemical admixtures are used to overcome different construction situations, such as hot or cold weather placements, pumping requirements, early strength requirements, or very low water-cement ratio specifications.
The above is a brief introduction to various concrete admixture products in Kingsun. If you are going to buy these concrete chemical admixtures, welcome to contact us online or leave a message below. Kingsun company is looking forward to cooperating with you.